The "invasion" took place at the Boqueirão Environmental Interpretation Centre and the Gruta das Torres Visitors Centre during last weekend's festivities.
The Regional Secretariat for the Environment and Climate Change carried out two environmental awareness actions, one on Flores and the other on Pico, related to the theme of the LIFE BEETLES project: insects, spiders and arthropods in general. The activities began with a short introduction of these living beings' benefits and their importance to the ecosystems.
On Pico, the activity continued with exploration to the Gruta das Torres (lava tube), where the participants found a lot of spider's webs, little spiders, insects, millipedes, centipedes and molluscs. The children's enthusiasm went beyond the fauna diversity, considering their curiosity about mosses, ferns and lichens that covered the rocks and trees throughout the staircase that gives access to the lava tube. In the end, there was a workshop on decorations made with natural elements inspired by the insects found.
On Flores, there was also a workshop, but of masks made of reusable materials. It is important to make children aware of the use of packaging that is destined for the recycling bin, showing that, in addition to the importance of recycling, we can give packaging a new life by reusing it. This way, the participants were challenged to use their imagination to create a mask more environmentally friendly without compromising the festivities' fun.
The insects usually have a negative connotation associated. The aim of promoting these activities was to demystify this negativism, showing how these little bugs can be fascinating and fun.
"There are bugs in the Cave" activity, on Pico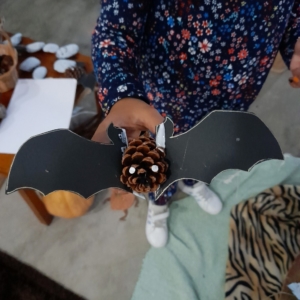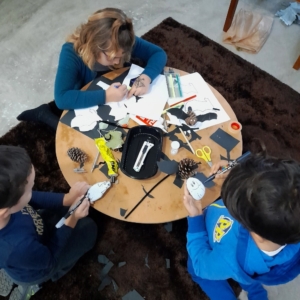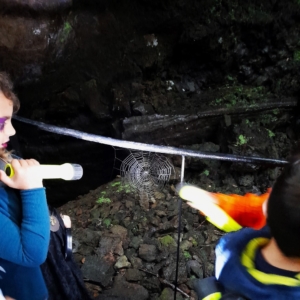 "There are bugs in the Centre" activity, on Flores